Superior Performance & Protection
Our chemistry is superior in having a dual durometer system comprised of the highest elongation of membrane along with the highest tensile strength topcoats in the industry.
30+ years manufacturing polyurethane coatings
Over 50 million sq. ft. installed with zero failures
Low VOCs, solvent free, contains no TDI
ISO 9001 + 14001 & a 5+5 year warranty
QUALIDECK POLYURETHANE OUTPERFORMS EPOXIES
Qualideck Topcoat (372 or 582UV)
372 and 582UV have high tensile strength with 372 boasting a tensile strength of 4200+ PSI (D412) allowing it to hold and retain aggregate better and longer than other competitive topcoats
Membrane (252) 1103% Elongation
The membrane at the point of the concrete slab allows movement and elongates, dissipating the movement as it moves upward through the topcoat, signigicantly reducing cracking through the topcoat

Qualideck Topcoat (372 or 582UV)
Longer wearing, holds aggregate better and longer
Membrane elongation (1103%, D412)
Prevents cracking through the topcoat
Advanced Polymer Technology is dedicated to supplying its customers with quality products that not only possess exceptional physical properties, but also contribute to a "greener" environment. Qualideck products can help in contributing towards gaining LEED points and certification.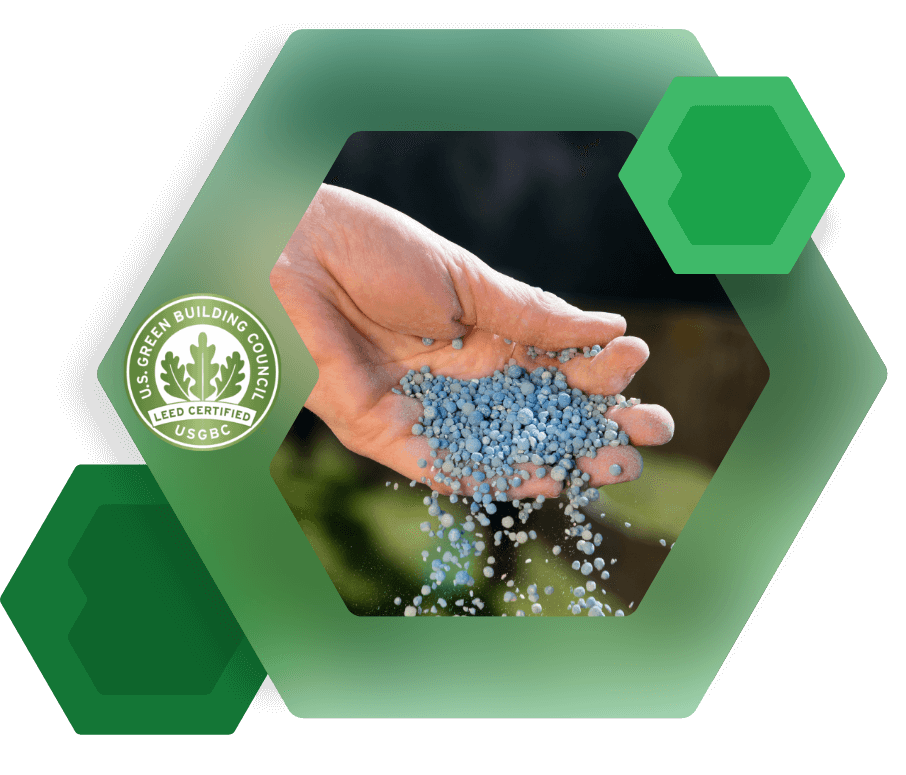 E

Proprietary urethane technology

E

Industry-leading flexibility & elongation

E

Superior aggregate retention

E

Unparalleled abrasion resistance (2.5x stronger)

E

Complete system passes ASTM C957 Crack bridging test

E

Costs 25% less than comparable epoxy systems
Outperforming on every level
Qualipur 372 polyurethane topcoat "outperforms" our competitor's epoxy topcoats. Epoxy topcoats are usually more expensive in the market, making us more cost-effective with our polyurethanes against epoxies. This was proven with outside testing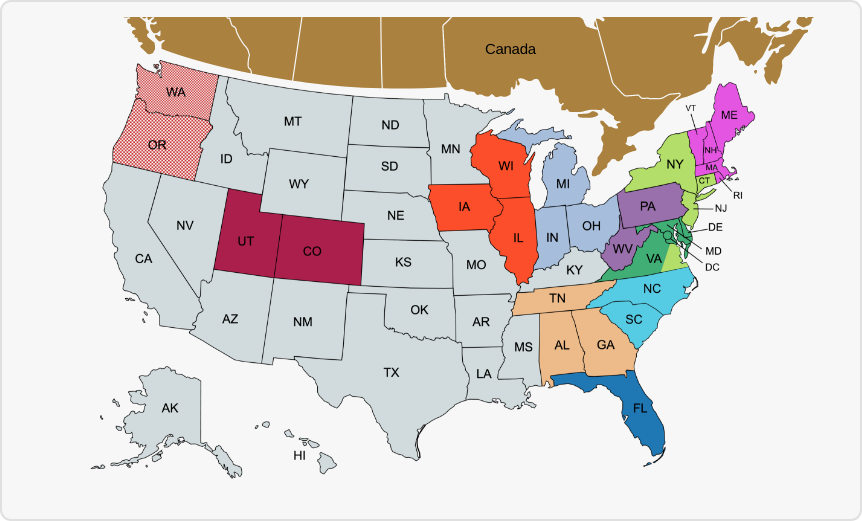 Kevin Koske | National Sales Manager
kevin.koske@advpolytech.com
Jim Hunter
jhunter1832@comcast.net
Mark Stover
pmpsi@comcast.net
Kurt Baron
kurt@infrastructure-systems.com
Bill Barker
bbarker40@verizon.net
Mark Barron
mark.barron@hmsystems.net
Bill Everett
beverett52@comcast.net
William Cox
billcox@brkssystems.com
Jeff Konkle
jeffk@mak-cpg.com
Steve Williamson
swilliamson@eprsales.com
Peter Alessi – Canada
peteralessi@cogeco.ca
CUSTOMIZED SOLUTIONS
What System Is Right For You?
Answer a few simple question and the chart to the right will show you what system fits your needs.
Systems
Medium Duty
Heavy Duty
Extra Heavy Duty
Extreme Duty
Primer
4 mils
4 mils
4 mils
4 mils
Membrane
25 mils
25 mils
25 mils
25 mils
Intermediate
15 mils
25 mils
30 mils
Top Coat
15 mils
15 mils
15 mils
20 mils
Sand Aggregate
10-15 lbs / 100 sf / Coat
10-15 lbs / 100 sf / Coat
10-15 lbs / 100 sf / Coat
10-15 lbs / 100 sf / Coat
Total
40 mils
55 mils
65 mils
75 mils
Components
Q 152 Primer
Q 182 Primer
Q 252 Membrane
Q 372 Intermediate/Top Coat (Aromatic)
Q 582 UV Top Coat (Aliphatic)
Actual colors may vary slightly color samples. Slight variations may occurs due to job site conditions, mixing proportions, and installation methods. Standard colors will vary by product.
Documentation
Here you'll find a variety of documents for Qualideck and all other related surfacing information.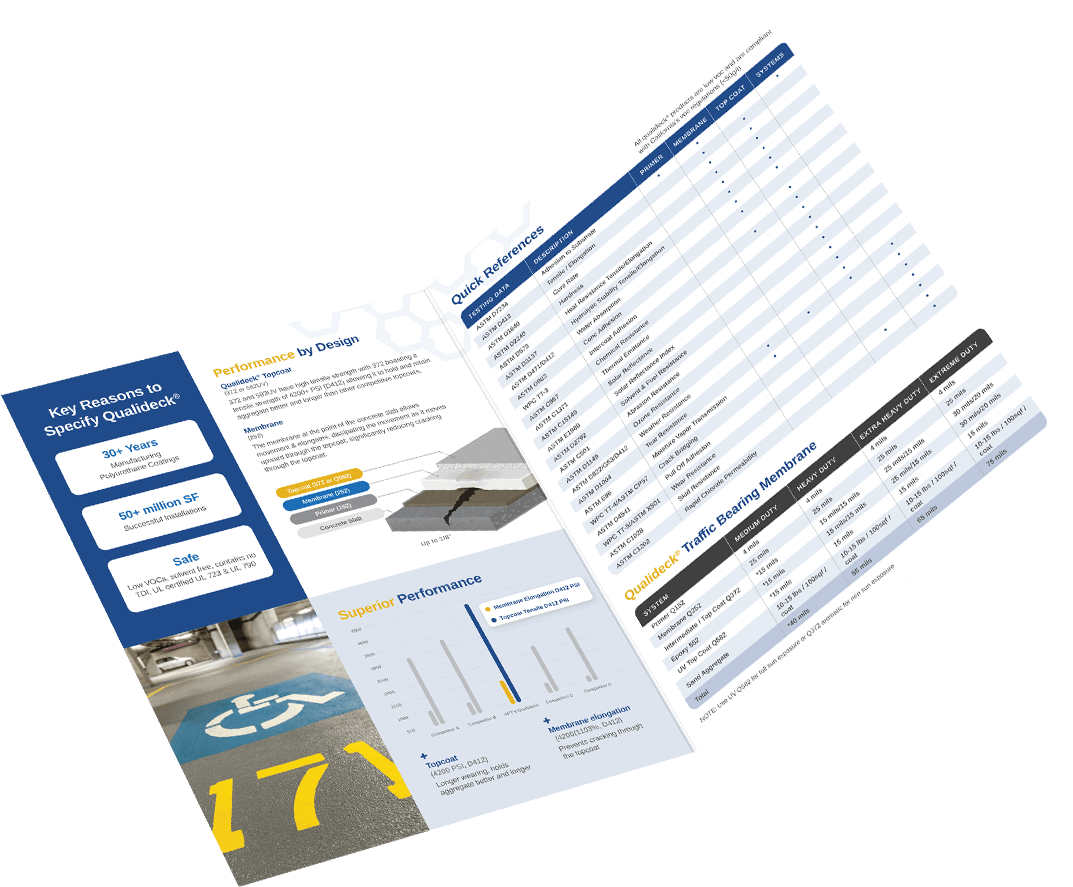 Product Brochure
Download our Qualideck brochure for important take-away information.
Traffic System – Extra Heavy Duty
Traffic System – Extreme Heavy Duty
Traffic System – Heavy Duty